We can see how the painting and marking scheme gradually more and more tend to get lower visibility. The first serial productions Gripen's were painted and marked as the JA 37 Viggen's (compare with the one to the left with code 32 on the tail. The JAS 39A Gripen in the middle (# 39128) has now numbers painted light grey and toned-down national insignia.

Air show at Air Force Wing F 7, Såtenäs, June 2000.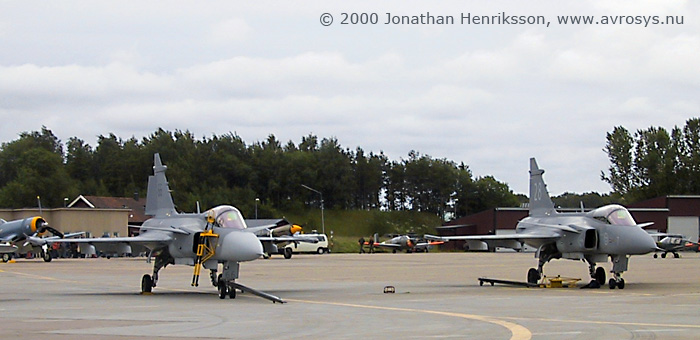 From April 1997, grey national insignia were painted on the new Gripen aircraft as on 39166 to the left. The older 39128 to the right has the crown markings in pale blue and pale yellow (see also photo at top). Note that it also has the unit number (7) painted on the nose. This marking was for a short time replaced by a unit letter (G for Wing F 7 - G is the seventh letter of the alphabet). But in 1998, the Air Force decided to omit the unit markings on the Gripen aircraft.
Air show at Air Force Wing F 7, Såtenäs, June 2000.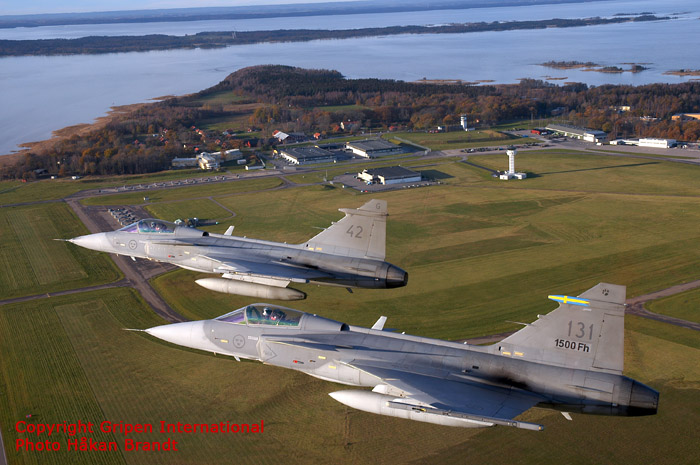 JAS 39As 39131 and 39142 flying over Wing F 7 at Såtenäs. The unit is located at lake Vänern. The tongue of land seen at the top of the photo is Hindens rev. This strange formation of cobble stone is more than five km long and never broader than 100 m.

Aircraft number 39131 was one of the four Gripens in the PRI 39 group. These aircraft are choosen to evaluate systems, strenght and to verify maintenance intervalls. Therefore they have given priority to flying service at F 7. On the photo, we notice that 39131 have passed 1500 flying hours. The other three aircraft in the group were 39121, 39122 and 39142.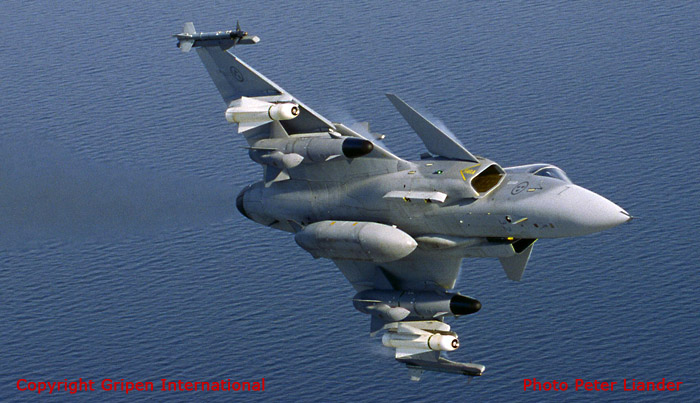 JAS 39A Gripen # 39131 armed for attack. On the wing tips is carries two RB 74 Sidewinder AIM9-L for slef defence. The white missiles are two RB 75TV Maverick AGM-65 for light attack. The larger grey ones are RBS 15 anti-ship missiles. In the middle hangs a drop tank.



---

© Lars Henriksson
Updated 2010-02-28
Custom Search